In 2002, I had just started writing. I wrote every night from 9-midnight — after the kids went to bed. Yes, I had to give up television, but in hindsight it was worth it. (Some nights, when I was tired and crabby and the muse was being a bitch, I considered vegging out in front of the television … but usually I didn't cave in to the doubt demons.)
My first book was a mess, an epic romantic suspense that had every possible romantic suspense trope on the planet, from a serial rapist to a virgin heroine to a stalker to a psycho ex-girlfriend … the list goes on. And on. Trust me, this book will never see the light of day.
My second book had a great premise, but I didn't have the skill to execute it properly, so I fell into bad habits I'd only just begun. That story didn't go anywhere, but I finished it.
Fast forward a year and three books … I sold THE PREY. My first four books were (rightfully) shelved, and my career began.
Now fast-forward 13 years.
Brenda Novak asked me to write a novella for her juvenile diabetes charity anthology, and I didn't have time … except I had this book I'd written. I'd called it PROTECTING HART … and I loved the premise. Still do.
Except.
The book wasn't good enough. It wasn't even good. Sure, I had a great heroine and set-up, but after the first two chapters it totally fell flat. But since I had the plot and I had the heroine, I just needed to rewrite the entire book. Which I did. Change the hero, changed the bad guy, and all of the sudden everything clicked. And, of course, I rewrote the whole thing. The 100,000 word novel became a shorter 60,000 word novel, but it was sooooo much better than the original.
AIM TO KILL was published earlier this year in the limited edition anthology SWEET DREAM. So if you read that — and supported juvenile diabetes research in the process — don't buy this book. If you didn't read it, well, why not? LOL. Seriously, though, I love this book.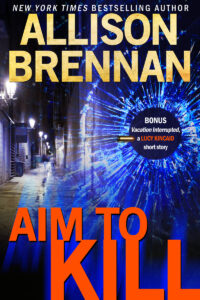 I'm calling AIM TO KILL the third book in my River City Mysteries, but it stands alone. The only reason it's part of a "series" is because it's set in Sacramento within the same world as the three short stories in KILLING JUSTICE and my first ever indie book, MURDER IN THE RIVER CITY. There are some recurring characters (Detective Selena Black – "Above Reproach" and her brother Detective John Black – "Capitol Obsession," MURDER IN THE RIVER CITY, SUDDEN DEATH, FATAL SECRETS.) And some surprises, like FBI ASAC Dean Hooper. But AIM TO KILL is it's own complete story about disgraced former cop Alexandra Morgan preventing the assassination of California's Lieutenant Governor … then finding herself in the middle of a conspiracy and undercover investigation.
When I was rewriting AIM TO KILL, one of my big stumbling blocks was the hero. Originally, it was Travis Hart, the LG … except, it couldn't be him. I'd thought about rekindling Alex's relationship with her ex-boyfriend, but he turned his back on her when she was tossed from the force for violating the "blue code" (She turned in her partner for corruption.) So I dug around in my head and realized that I'd never written a book about Matt Elliott.
Sacramento County District Attorney Matt Elliott is one of my favorite secondary characters. I wrote about him, when he was a State Senator, in my first ever short story "Killing Justice," originally published in the anthology KILLER YEAR edited by Lee Child. Then, he popped up in PLAYING DEAD as the Sacramento County District Attorney … and the brother of FBI SSA Megan Elliott. Long time fans will know that Megan was the heroine of SUDDEN DEATH … and the hero of that book was?? Anyone?? Anyone?? Jack Kincaid!
Small world, eh?
LOL. Seriously, though, Matt Elliott was in the Navy SEALs with Rogan, Caruso, Kincaid principle J.T. Caruso. (No, I don't have a story idea for J.T. yet, but when I do, you'll be the first to know …) Matt has popped up in many of my short stories and a couple of my books. I like him. He's a smart guy (I have a thing for smart guys.) He's an idealist in a world that doesn't value idealism, and that has been problematic. He's made some missteps along the way. But at his core, he will always do the right thing. He will always be honest, hard-working, and committed to justice.
Who doesn't love a guy like that?
Certainly not Alex Morgan, who for the longest time thought Matt was gay–not only because he didn't ask her out, but because no one in the "business" (prosecutors and cops) had ever heard of him dating anyone.
AIM TO KILL is a thriller, but there is a hint of romance, and I hope a satisfying ending. I liked writing this book 13 years ago … and I loved rewriting it early this year and making it worthy of publication.
Here's the cover copy:
When disgraced former cop Alexandra Morgan is shot saving the life of California's Lieutenant Governor, she doesn't expect to be caught in the middle of a deadly conspiracy, an FBI sting, an old rivalry … and cold-blooded murder.

When the shooter gets away after Alex pursues him, she gives her statement to the police, but is skeptical that LG Travis Hart was the actual target. The lead detective—Alex's ex-boyfriend—doesn't buy her theory, but is willing to look into it. That satisfies her until District Attorney Matt Elliott shows up at her house and asks Alex to once again go undercover to stop a growing criminal enterprise that he claims is funding Hart's campaign for Governor.

Alex is no stranger to working undercover—she'd been undercover for the FBI when her partner shot and nearly killed her eight months ago. To protect the investigation and the FBI's informants, she left the force under a cloud of distrust and suspicion. But this time, she's going in without back-up and without a badge. And this time, the shooter will aim to kill …
I hope you enjoy AIM TO KILL even half as much as I enjoyed writing it.
If you want to read an excerpt, try here.
Kindle
Aim to Kill – iBooks
Kobo
Nook
(Nook tells me that AIM TO KILL is on sale, but the link isn't working … go figure. Hopefully by the time this post is live, the link will be up!)