There are a few shows I love so much that I know I'll watch again, so I buy them through iTunes. And, I'm spoiled — I hate commercials and I love high-quality viewing. CASTLE is one of those shows.
The one draw back is that I usually have to wait an extra day before I can see the show, because its not available for download until it's aired, meaning once Hawaii gets to see it, it's available for download. That's usually between midnight and 2 am.
Because I was finishing revisions for DEAD HEAT Monday night, I didn't even remember CASTLE was back on until I got the email from Apple that my download was ready 🙂 I finished my revisions Tuesday at 5 PM and the first thing I did (after feeding the kids) was sit back and watch it.
WOW. One of the best episodes EVER. I cried. I rarely cry in TV shows. (Disney movies? That's another story!) It was gripping and emotional and showed the best of ALL characters.
Some shows start strong and every season is equally strong (JUSTIFIED.) Some shows start solid, get better, but some seasons are so-so (NCIS season 10-yuck, BONES season 6-double yuck.) Fortunately, BONES has had a great start to season 9. NCIS? I don't know; I'm behind in watching. They've lost something, and not just Ziva. And some shows start amazing, then slowly fizzle until you wonder why they didn't quit while they're ahead. (SUPERNATURAL. Okay, Season 9 has been MUCH better than the last 3 seasons, so I'm hopeful. I still think they should have stuck with Eric Kripke's five season story arc. But that's another blog.)
CASTLE is one of those shows that started solid and every season has improved. The only season that I didn't love as much was Season 4, but it didn't suck rotten eggs. With Season 6 they have outdone themselves.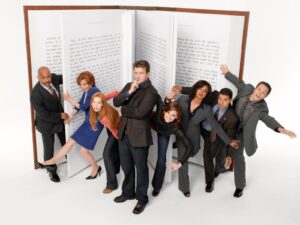 So I started thinking about WHY. I've been watching the entire series again with my daughter Kelly, who absolutely loves the show. We're in the middle of season 5 now, so after two viewings, I have a good grasp of what the show delivers.
First, they have a solid team of actors. While the focus is rightfully on Castle and Kate, the writers have given each of the secondary characters depth and a story arc that has shown growth through the series. The first two seasons they didn't focus as much on the secondary characters, which I had thought was a weakness even with the great leads. But starting in season 3, the writers did some amazing work in integrating stronger story lines for our secondary characters, which make Castle and Kate shine even more. The actors are all top notch — no one is lacking. I love the dynamics between Javier and Kevin, I've always loved the relationship between Castle and Alexis and Martha. And writing in the incredibly annoying Pi (from a parent's perspective!) was very smart, even though he annoys me.
Second, the writers. Yes, the actors are all good, but the writers shine. CASTLE writers are among the best in television today, and I don't say that lightly. First, they GET writers. I didn't realize how well they get us until I watched the series again with my daughter and she pointed out all the things that Castle does that I do — some things I didn't even realize I did. Nathan Fillion pulls it off so well. They have serious episodes and funny episodes, but everything works. And truth be told? Without good writers, the show wouldn't rock. You need both — actors and writers. But great writers can make actors even better, and CASTLE writers have elevated an already talented cast. (Of course, I'm a bit biased …)
Third, they didn't screw up the romance, like BONES, which took two seasons to recover from their eff-up. Not only did CASTLE get everything RIGHT in the relationship between Rick and Kate, they gave us the pay-off — twice. At the end of season four when they get together, and the end of 5/beginning of season six when he proposes. They're not boring. They still argue. They still have the sexual attraction, but it's a better, deeper relationship–like any relationship with time and love. They LIKE each other. And that goes for the entire cast — they mesh so well, that I would be stunned if I found out they didn't like each other off screen as well.
Fourth, the characters are flawed. They're not perfect, they make mistakes, they understand their limitations and their strengths. These can both help and hinder them from episode to episode.
My friend Lee Lofland, a former cop who also organizes the Writers Police Academy, has a blog where he highlights the procedural mistakes of CASTLE. There were far worse mistakes in the first couple of seasons. It's fun to read about them, but honestly? I'm willing to suspend disbelief because the show is that good.
One of my favorite shows was their 100th episode, near the end of Season 5. Familiar? 🙂
And please — it's a writer's fantasy. A perpetual ride-along with a hot cop? Of course, my fellow female writers wouldn't pick Stana Katic. We'd pick someone of the male persuasion. So I got to think about who? Raylan Givens? Nope, I'd be shot and killed in the first episode I was in. Karl Urban in Almost Human? Yes … that would work 🙂 But I'd have to compete with a robot. Now if Jeremy Renner or Chris Helmsworth or Benedict Cumberbatch were a detective and wanted a permanent ride-along partner, I'd be the first to volunteer. Of course, I'd have to kill all my competition 🙂
So what do you think? Why do you love CASTLE? Or don't you? And if you could be on a perpetual ride-along with a hot cop, who would it be?