I've been a fan of Lisa Gardner since I read THE THIRD VICTIM in 2001.
THE THIRD VICTIM wasn't Lisa's first book, but it was the first book of hers that I read. I became a life-long fan and Lisa Gardner is one of the few authors I consistently buy (in hardcover!) and read.
But there's another reason why THE THIRD VICTIM is close to my heart: it was one of the books that inspired me to write.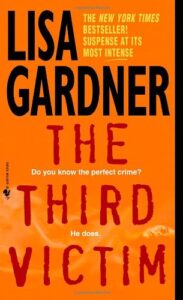 I've always been a writer, as most of us here at MSW can claim. But for me, writing always took a backseat. I had a career, a family, hobbies. A mortgage to pay and things to do. I'd write here and there, but finished nothing. I didn't know about writer's groups or critique partners or writing classes. I simply wrote for fun and put the book aside when I got tired of the story or didn't know what to write next.
In fact, I had over 100 beginnings and no endings.
In 2001, I was on maternity leave with my son, Brennan #3. I can't sleep during the day, but babies sure do! I read 77 books during those four months, including Lisa's THE THIRD VICTIM.
That book, along with Iris Johansen's THE SEARCH, stunned me. First, they were great books. Second, they were thrilling suspense novels with a strong romantic subplot. They were exactly the type of book I loved to read, but couldn't find many outside of some of Nora Roberts single titles or Susan Andersen's backlist. I loved them because they were dark, they pulled no punches, and they had great but flawed characters. I'm not big into perfect characters, I love characters that have complex inner conflicts. And Lisa did it so amazing, I was inspired.
I ended up going back to work, but my heart was no longer in it. I wanted to write, I wanted to finish a book. Because I knew that there were publishers out there who published books that I wanted to read … and write.
I'm still inspired by Lisa because every book I've read is better than the last, something that all writers hope and pray they can accomplish–but fear we'll fail. My mom and I were talking early in the year. I'd just finished CATCH ME and we were talking about how much we liked it, and then my mom said, "Have you read her new one?" And I said, "Not yet, don't give it away." And mom said, "It's even better."
The first time I met Lisa was on the phone — I was to interview her for RT Book Reviews. It was early 2008 and I was in the middle of buying a house that was having major problems because of the crash in the real estate market. Needless to say, I was stressed. So stressed that I forgot to call Lisa for our scheduled interview. Color me surprised when my cell phone rings and it's her, asking if we were supposed to have an interview. She graciously agreed to reschedule for the next day.
I was so embarrassed.
Fortunately, she forgave me, and even offered a quote for two of my books–including my upcoming Maxine Revere thriller NOTORIOUS (more on that later this summer!)
I'm sure I'm not the only one who's had an embarrassing fan girl moment!
When Lisa's publicist contacted me about her Beach Reads giveaway, I jumped at the opportunity to share my love of these books with the readers here at Murder She Writes. All you have to do is comment and you'll be entered in a drawing for the fabulous beach bag (picture at the top!) which includes:
A Briscoe Designs Beach Bag filled with your Summer Reading Essentials:
~ Beach Towel
~ Lisa Gardner Pen
~ Summer Reading Sampler with previews of Maggie's Man, MacNamara's Woman, Brandon's Bride and Fear Nothing
~ Signed copies of Catch Me and Touch & Go
In addition to her trademark thrillers, Penguin is re-releasing three of the romance novels Lisa wrote under the name Alicia Scott: Maggie's Man, MacNamara's Woman and Brandon's Bride. (See? There's something for everyone!)
LISA GARDNER is the #1 New York Times bestselling author of fifteen previous novels, including her most recent, Touch & Go. Her Detective D. D. Warren novels include Catch Me, Love You More, and The Neighbor, which won the International Thriller of the Year Award. She lives with her family in New England.
So I ask you: what's the first book you read by one of your favorite authors that hooked you and kept you reading? Or … do you have an embarrassing fan moment with one of your favorite authors?
Comment for a chance to win Lisa's fabulous beach bag of books!