First off … from Angie Fox's guest blog last week we have a winner! Anne! Please email me (Allison) with your contact information and which book of Angie's you want and I'll forward her the information. Thank you!
My mom, who helps me out with Quickbooks and organizing and mailings, is out of town and will be back Wednesday, so all pending giveaways will be mailed later this week. I think there's only one …
Now, many of you may have already heard that Laura Griffin and I indie published a book together. CRASH AND BURN is really two connected novellas — connected because my character (Scarlet Moreno) and Laura's character (Krista Hart) are partners in an Orange County P.I. firm. So in the traditional sense, we didn't co-write the book … we each wrote a story (after brainstorming about character, setting, and backstory) and then we worked together to make sure that our portrayal of each other's character was accurate.
CRASH AND BURN is on sale now! Yeah!
CRASH AND BURN is currently available on Amazon, and will shortly be available on Kobo, Barnes & Noble, and iTunes. It's a digital only book that launches what we hope will be a new series — the Moreno & Hart Mysteries. There is (of course!) love interests for our two female PIs, but the book is predominately a thriller.
We've already received some terrific reviews. Shannon Raab at Suspense Magazine said, " Two gripping stories told by a pair of amazing talents merge into one fantastic book … Impossible to put down." And over at Heroes & Heartbreakers, Leigh Davis gave a terrific run-through and said, "If you enjoy strong women, fascinating men, and mysterious cases – then you don't want to miss Crash and Burn."
We were also thrilled that our own Kendra Elliot gave us a fantastic interview over at the USA Today Happily Ever After blog. And Laura and I wrote an article about our research for The Big Thrill. We have a few more blogs coming out this week as well! And if you want to check out excerpts, they're available over at our respective websites 🙂
I have a lot of friends who co-write — I just never thought I'd do it. I tend to be a control freak. I don't plot. I don't like to plan. I don't like to know what's going to happen. And honestly? I like to make my own decisions. But because we started cautiously — each with a separate story that we connected through our characters — the process was relatively painless.
My good friend J.T. Ellison co-wrote a book with the amazing and talented Catherine Coulter. (And J.T. is no slouch, either! A Thriller award winning author and a RITA nominee, J.T. writes two fantastic series. And now three — with Catherine.) I was lucky enough to have lunch with J.T., Catherine and several other authors last month and asked them about their writing process. They definitely wrote the book together, with Catherine coming up with the idea and plot and doing much of the writing, and J.T. layering in more forensic and crime detail than Catherine usually writes. I can not WAIT to read this book — THE FINAL CUT — because I'm a fan of both authors and suspect that this book is going to be amazing. It's already received fantastic reviews.
What I really liked hearing from them was that they honestly co-wrote the book. Catherine didn't just come up with an idea and edit J.T.; they worked out the story together, each writing and editing, working together to create the final product, which PW gave a glowing review, "A thriller that manages to be both intricate and full of jaw-dropping action sequences." (The picture above is me with Catherine and J.T. at Thrillerfest.)
I don't know if Laura and I could do that … she might kill me. And she'd know how to hide the body, too! But it might be fun to try. I wonder if our respective families would let us run away together for a couple of weeks??? Ha!
I've been looking at my books to see if I read a lot of co-authored books, and the truth is? Not so much. It's not that common (James Patterson notwithstanding) but there are a few famous partnerships, like Lincoln Child and Douglas Preston. Ridley Pearson and Dave Barry co-wrote a middle grade fantasy series together. P.C. and Kristen Cast write the YA House of Night series. And there are many writing pairs who take a single pen name — P.J. Tracy and P.J. Parrish to name only two.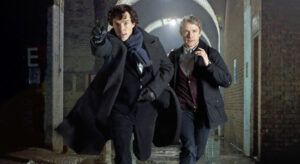 So … do you have a favorite writing pair? If not, what television show are you most looking forward to the season premiere? (Yes, it's almost that time of year again!) — for me, it's got to be J.T. and Catherine simply because I love their books separately and know they'll be amazing together. As far as television … well, that's a hard one. GRIMM? SUPERNATURAL? PERSON OF INTEREST? THE FOLLOWING? CASTLE? So hard to pick … I'll admit that since I didn't like the end of Season 10 of NCIS, it's not on my can-not-wait list. Oh … and then there's SHERLOCK. 🙂 Need I say more?