As every writer knows, our job is hard work. Sitting in the chair every day writing stories that we hope and pray our readers (and our editor!) will love isn't always easy. Writing itself takes time and practice; it's part gift and part grit. There are many head-banging moments. There are many ten, twelve, fourteen hour days. I've stayed up all night writing; I've stared at the computer screen for countless hours not writing.
But … I work from home. My hours are flexible. (I can go to my daughter's soccer practice or take my son on a field trip and make up the time at night.) I can write in my pajamas or with a glass of wine (most people can't drink on the job!) And movies are research, not mere entertainment. 🙂
And sometimes, we get invited to speak. I've been all over the country, from Seattle to Atlanta; Phoenix to New Jersey. I have truly enjoyed every conference I've been invited to speak at, and know that I learned more from the writers there as they learned from me.
But I'll admit … being invited as a keynote speaker to the Romance Writers of New Zealand is truly a highlight.
I had a rather frustrating trip out west (that is really weird to say since I live in California!) … first, the Sacramento International Airport on Tuesday night was practically dead. As I posted on my Facebook page, I felt like I'd walked into a real-life version of "The Langoliers." (The movie's good; the books is better.)
But the commuter flight was uneventful and I landed in San Francisco to transfer to the Big Plane that would take me Far West. First, the plane was delayed because the incoming flight was late. That wasn't a huge problem, because I watched the first two innings of the Giants game in Sacramento, and the last inning in San Francisco at an airport bar. (Short flight!) And the Giants won, so all was right in the world.
Finally, we are about to board (two hours late) when it's announced that the plane has two flat tires. But once the situation is assessed, they continue boarding–while the plane is jacked up and the tires are being changed. O-Kay. They announce that the tires are fixed! And then … the power goes out.
So five hours after we were supposed to take off, the plane finally takes off. The flight is uneventful. I finished a JD Robb book and read the entirety of Neil Gaiman's THE OCEAN AT THE END OF THE LANE (not usually my thing, but worth reading — when I want horror/suspense I go to King or Straub. Gaiman is more YA in tone. I liked his voice. My daughter is a big Gaiman fan, so I wanted to see why she liked him. Now I know.) I also wrote about 3,000 words of Max #2. It's not the next book due, but I had a really good idea I had to get down before it slipped away. I watched an episode of THE BRIDGE on my iPad and (sort of) slept on the 14 hour flight to Sydney.
Once in Sydney, I was informed that I'd missed my connection to Wellington, New Zealand and was booked on a 6:15 pm flight — seven hours later. Fortunately, a businessman from Auckland was in the same boat and he had a club membership, so brought me up as his guest where I enjoyed free food and free drinks and free WiFi and comfy chairs. I wrote a bit, but honestly was worn out, so started my next JD Robb book. (Yes, I'm behind. Now only 7 books behind, though!) Thank you Simon from Auckland! You really made a bad situation good 🙂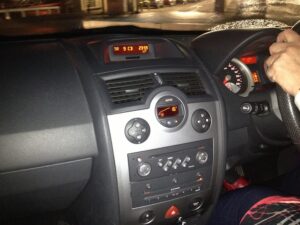 The RWNZ president, Giovanna Lee, picked me up at the airport … even though I arrived after midnight, ten hours later than I was supposed to. I'd met Giovanna at a previous RWA conference, and she really had not only kept me on target, but organized an AMAZING conference. This is her car, with the wheel on the wrong side 😉
Seriously, though, I appreciated that she stayed up late to find me and see me safely into my hotel. I honestly don't remember what I said or did once she found me at the airport, because I was a bit brain dead after the 36 hours travel time.
She did inform me, however, that the star New Zealand rugby team, the All Blacks, were staying in the same hotel as we were. Rugby players. Romance writers. I couldn't make this up, folks!
Friday was a relatively uneventful day for me — recuperating from my long journey. Pat Snellgrove, who writes under Ann Patrick, took me under her wing and we walked around Friday afternoon. She pointed out a lot of the sights and talked about New Zealand, helping me become immediately comfortable with my surroundings.
We walked along the wharf, went to the Te Papa Museum, and had a wonderful talk! She also kept me on task for the entire weekend, as my assigned babysitter escort. Thank you Pat! 🙂
On Saturday morning I gave the keynote speech. Giovanna made me asked me for the title of my talk, so I came up with a variation of my workshop, "Breaking the Rules to Break In or Break Out" which I've presented a couple of times at conferences. As a speech, it was completely different. But the core message was the same: You alone are responsible for your career. You are a smart writer, a well-read writer. There are no rules, there are only guidelines (to paraphrase Barbarossa in Pirates) and you need to find your voice then trust your instincts.
But I had a lot of stories, anecdotes, and went off on at least three tangents … tangents I couldn't repeat if I wanted to! LOL. (I don't plot, and I hate writing speeches, but I've learned that I can write a speech and still let the speech take me down different paths. It works for me!)
Saturday was also the awards dinner, and I was asked to give a 20 minute after dinner speech. I talked about some of the embarrassing moments I've had as a writer, then gave a bunch of one-liners related to the theme, "You know you're a writer when …" I'm so glad that the group found most of them funny! Believe me, I was worried that after hearing me in the morning, they'd be tired of me by the end of the day …
I wasn't the only one presenting at the conference. The hugely talented and prolific author Shirley Jump gave a full-day workshop on Friday about writing and marketing and a whole host of things that I almost crashed it because I could learn a lot from this woman. She also gave the closing speech on Sunday about perseverance … and I think I fell in love with this woman. Here's someone who had every door closed and was going to give up … and then sold. She reminds us that it's not an easy road, but if we have the courage and the perseverance, we can achieve our dreams. In addition, Megan Crane was there. I really thought I'd met her before, she was so familiar to me, but I don't think so because if we did, we didn't have a conversation. LOL. Here's another smart writer girl. Smart also that she planned on staying a whole extra week after the conference!
I also wish I'd crashed Megan's workshops, because everyone was talking about them. I always learn something at conferences. Some people think that once you're published, the learning curve is over. Nope; the learning curve has just begun.
Harlequin Australia and New Zealand sponsored a large chunk of the conference, and Margaret Marbury was there — I'd worked with her and Valerie Gray on the International Thriller Writers Thriller 3: Love is Murder two years ago. (Edited by the equally amazing Sandra Brown.) I truly loved working with MIRA — they are an amazing imprint. Harlequin has a large chunk of their writers located in New Zealand and Australia, so I'm not surprised that they were in attendance. There were representatives from Entangled and Penguin Australia as well.
I should also say I met a lot of writers I'd met before at conference, and want to particularly shout out to Frances Housden, who I am TOTALLY BUMMED I didn't get my picture with. I don't get it — I thought I had one on my camera, but I didn't. Argh. She has long been one of my favorite people in this business. I think we first met at a PASIC conference in 2007. Seems like a long time ago! Classy lady.
After the conference closed on Sunday, Shirley and I went off for dinner on the wharf (after wandering around aimlessly for an hour!) … we picked The Crab Shack, though when I told my husband that, he proceeded to tell our 9 year old son, "Mom ate at the Crusty Crab!" (Parents will understand the reference.)
I decided early on to stay an "extra day" (because I'm not as smart as Megan Crane who decided early on to stay an "extra week") and wanted to make my Tourist Monday something special. When you put that much pressure on yourself, you tend to not make decisions. I didn't make any decisions until Monday morning, and Fate (ie tours sold out) made my decisions for me.
Because I needed to stay in the general Wellington area, my options were a bit limited. I'd already walked the wharf, downtown, and visited the museum. I wanted to do one of the many Lord of the Rings tours, but I didn't want an all-day excursion. My procrastination paid off, however, as I landed myself in a 4-hour afternoon tour!
So in the morning, I took the cable car to the Botanical Gardens. (First, I got sort of lost — I turned right when I should have turned left and ended up at the Parliament buildings. Forgot to take pictures because I was looking at my iPhone map trying to find the cable car.) Anyway, I made it back (walked 1.4 miles when it should have been a .2 mile walk to the cable car — I needed the exercise!)
Took the cable car to the top of the Botanical Garden and instead of using a map to follow the trails, I just wandered in and out and around, enjoying the beautiful afternoon. In fact, the entire trip the temperatures didn't exceed 60 or go below 50 during the day. (Even the evenings were nice!)
I could have stayed there all day. Honestly, it was so peaceful, so relaxing … I don't remember a day where I was completely, totally at peace. I walked, observed, took pictures, sat on benches when I felt like it, and honestly? Just took time to smell the roses.
I don't get many of those days.
After the walk through the gardens, I found myself at the "treehouse" which is basically an information center. I picked up some leaflets, took a breather, then started on the walk back to town. Did I tell you what a beautiful day it was? A bit windy, but clear with big puffy white clouds. My favorite weather.
I walked to the rose garden, which was still trimmed back for winter (it's going to be AMAZING in a month or two!); I went to the greenhouse, had lunch, coffee, bought souvenirs, and then followed the path through town.
I didn't know that it went through a graveyard. Bonus!
I had an hour before my tour started, so I kicked back in my hotel room and read. My LOTR tour started at 2:30! I am so, so, so glad I picked this particular tour company. You can check them out here.
First, the tour guide was enthusiastic. Her name was Alice, and she knew her stuff. I didn't do the full-day tour so I missed Rivendale, but we got to visit many of the places where they filmed the hobbit scenes — including hiking in Mount Victoria, visiting Stone Street Studios (okay, only on the outside), and visiting the Weta Cave where we toured Weta Creative Studios (special effects! Yes! But alas, no pictures allowed.)
She drove us through Miramar, we saw the huge green screen they filmed many of the larger scenes on, she knew the movies inside and out, and even some fun trivia (like why one scene, Viggo Mortensen was filmed only in profile — he had a black eye from his battle with a surfboard the day before!)
My journey home was long but uneventful. I finished my second JD Robb book, starting a galley I'd promised to read, and while waiting (6 hours!) at the Sydney airport, had an epiphany about the next Lucy book … so I wrote over 3,000 words on the plane. I watched the first Mission: Impossible on my iPad and had another, smaller, revelation about a plot point in the story. I had a wonderful time, but it's always good to be home.
The wonders and kindness of New Zealand aside, I was thrilled to attend the conference and share what I know as well as learn from others. I thank RWNZ for the opportunity, and wish every RWNZ writer a prolific muse.