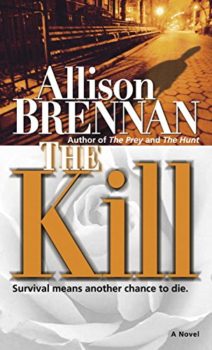 Predator Trilogy Book #3
February 28, 2006
Ballantine Books
Available in: Paperback, e-Book
*afflilate link
* This site contains affiliate links to products. We may receive a commission for purchases made through these links. Specifically, this site is a participant in the Amazon Services LLC Associates Program, an affiliate advertising program designed to provide a means for website owners to earn advertising fees by advertising and linking to amazon.com, audible.com, and any other website that may be affiliated with Amazon Service LLC Associates Program.
The Kill
Her worst nightmare brought back to life, she risks everything for a second shot at justice.
For thirty years, FBI scientist Olivia St. Martin has lived with guilt and one abiding certainty—that while she wasn't able to save her sister's life, she did testify and helped to convict the rapist and killer. When shocking new evidence exonerates the man Olivia is sure she saw abduct her sister, she breaks every rule in the book to uncover the truth.
Driven by the possibility that she put the wrong man behind bars, Olivia discovers that a serial killer has been at large all these years. Believing that the monster has just struck again in Seattle, Olivia leaves her lab and poses as a field agent, sharing her unofficial investigation with a hardworking Seattle cop. Olivia doesn't want to lie to detective Zack Travis. And she certainly doesn't want to fall in love. But as the investigation intensifies, Olivia and Zack find that they're rapidly losing control—over their hearts, their secrets, and a case that threatens to consume them.
Praise for The Kill
RITA Finalist: Best Romantic Suspense
RT Award Winner: Best Suspense of 2006
RT Book Reviews: Top Pick
"Guilt and justice vie for dominance in this emotionally complex and terrifying thriller. The protagonists are human and fallible, which makes their dangerous journey highly suspenseful. After just three books, Brennan has carved out a place for herself in the suspense genre."
— RT Book Reviews (Top Pick!)
"THE KILL is an intense, exciting, moving romantic thriller."
— Romance Reader at Heart – A Top Pick for 2006
"Allison Brennan does murder better than almost everyone writing in the romantic suspense genre does. She writes scintillating thrillers that keep you turning the pages until you breathlessly reach the conclusion. And then you want more. She is becoming one of my favorite authors."
— Armchair Interviews
"Excellent psychological thriller."
— Fresh Fiction
"Powerful, emotional, and not for the faint-hearted, Allison Brennan books are to watch out for."
— Curled Up With A Good Book Reviews