Be the best you can be … the slogan sounds trite because we repeat it often enough, but when you really think about it, it's deeper than most people think.
Too often, we try to be the best. The best writer, the best mother, the best spouse, the best teacher, the best gamer. The pressure we put on ourselves to compete for the "best" slot is unbelievable. Or maybe that's just me.
I doubt it. I think we all put that pressure on ourselves at different time in our lives, or for different things in our life. Sometimes, I need to sit back and take a deep breath and focus on being a better me.
When I was writing my 7th book (KILLING FEAR), my friend and mentor Mariah Stewart had just published her 20th novel. I was struggling, and I emailed her a congratulations email on her milestone publication, then ended with, "I can't wait until I have 20 books and it's easier!"
Marti called me on the phone and said, "Honey, it never gets easier. Every book you write is harder than the last because you are constantly trying to write a better book and tell a better story."
Truer words were never spoken.
My son is an avid football fan. The kind of football fan who plays fantasy football, who knows the stats for all the great players, who knows who was traded to who, and who understands the nuances of the game. His favorite team is the Indianapolis Colts, which is odd since we live in Sacramento and he could (should?) be a 49er or Raiders fan. I suspect he became a Colts fan because the year he started playing football in 2009, when he was 8 years old, the Colts had already won a Super Bowl and Peyton Manning was a stellar quarterback. The Raiders and the 49ers were playing poorly and … well … I really don't know why he loves the Colts. But he is now a die hard fan and admires Andrew Luck, not only for his ability on the field but for the fact that he's smart (a graduate of Stanford.)
I like Luck, too, because I like watching him play and you can see he's a smart player. A lot like a young Peyton Manning (and Luke will tell you that Luck has already exceeded Manning at this point in his career.) Because Luke loves the Colts, I follow them and try to keep up with what's going on. I saw this quote this morning and it totally resonated:
"The best thing about him is he keeps taking steps forward. He's always been really, really good at just doing that, inching forward, making progress. We don't need to be Johnny Unitas this year. We just need to be a better Andrew Luck and I think that's what he will keep doing." — Colts quarterback coach Clyde Christensen. Full article here.
Years ago, when I was still at Ballantine, we had a publisher meeting and they asked me where I saw myself. Who I wanted to write like. I didn't really have an answer. I know the general group I want to fit in with — I want to be grouped with fabulous suspense authors like Lisa Gardner and Iris Johansen and Tami Hoag. But I said I didn't want to be a watered down version of any other author. I wanted to be the best author that *I* could be. Because truthfully, if I tried to follow another author's path, I would still be behind them on the trail. But if I started on a highway filled with other suspense and romantic suspense authors, and then one by one the highway narrows, and we each turn down a slightly different road. Eventually, though we're all heading in the same general direction, each road will be unique. Each author will forge their own path, tell their own story. If I followed Lisa Gardner forever, I would simply be a poor substitution for a great author.
I don't want that. I want my own voice. I may not be as successful, I may not be as popular, but I will be the best that I can be.
I found this quote by Felicia Day, Charlie from SUPERNATURAL, and I think this says everything there is to say about writing and starting a new book — that new book that we try to make better than the last, the pressure, the joy, the fear.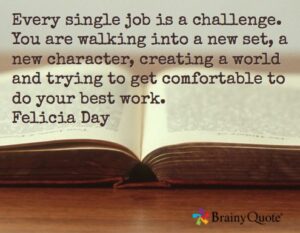 Every book is a challenge. But with every book we give it 110%, we put in our best work, and we hope that our best is better than the last. When we're done, we think, "I'll never be able to do that again!" I've finished books before and thought, "OMG, I won't be able to top that. I'll never get better."
But I start the next book, and at some point in the story, I get excited again, and think, "Okay, maybe I don't suck. Maybe this is okay." But always, I'm trying to write a better Allison Brennan book.
Go and be the best you can be today, in whatever you set out to do.