I know the mass market paperback world very well. I've had 22 mass market originals released … not including novellas in anthologies. I write the book, I revise the book, it goes through an editor, a copy editor, and a proofreader or two, is printed the month before the release date, warehoused, and distributed. I've been fortunate that my publishers have, for the most part, been able to prevent too many sales prior to the on-sale date, which helps with opening week sales numbers, which helps with list placement. I understand the process and, even with the rapid and rabid changes in the industry over the last few years, I still get it. I understand the timing of writing and revising and production, and I understand that there is a limited shelf life to the paperback original.
So when my first hardcover was published last March, I was introduced to a whole new process. It surprised–and scared me!
First, they wanted the manuscript a full year before publication. For someone who was used to writing 3 mass market originals a year, some with very tight deadlines, I was flummoxed as to why they wanted the manuscript so far out. I learned that with hardcovers, especially if it's a launch (like the first book in a series — i.e. NOTORIOUS) they want to get as many people in-house to read it, they want early reviews, they want enough time to print ARCs and distribute not only for reviews, but to key buyers in the market — for me, that would be indie mystery bookstores who are crucial to the thriller/mystery hardcover author.
The second big change for me was expectations. I was used to my books being sold in all venues, from Walmart to grocery stores to airports. Walmart and groceries and airports carry only the cream of the hardcover crop–the Stephen Kings and James Pattersons and Nora Roberts of the world. That meant people who wanted to read my book would have to go to Barnes and Noble, BAMM, or an indie store — or order a copy online. (Of course, if they have an e-reader, that's a completely different story–it's available for all e-reading devices.) I didn't know all the stores my books were in, or not in, and had to answer a lot of email about why they couldn't find the book in Walmart.
And then there's now, the mass market release of NOTORIOUS.
NOTORIOUS has been out for 9 months … a good length of time before the mass market is released, and 3 months before book two, COMPULSION, comes out. I'm supposed to treat today as a release day … but it doesn't feel like a release day. Because I've already done this. Most of my loyal readers bought the hardcover or an e-book or checked it out of the library, and I feel like I'm nagging or over-promoting by talking about the mass market release as if this is an entirely new book.
It's weird. It doesn't feel natural.
COMPULSION, book two of the Max Revere series, was turned in last March, revised by April, copyedits done by July, and the page proofs finished in September. I'm already thinking about book three, currently untitled, and the first draft will be on my editor's desk before book two comes out.
It's just … different.
The publishing world has changed, mass market originals have slacked off in sales as shelf space has constricted across the board (mass merchandise like Target and Walmart as well as groceries and regular bookstores) and hardcover authors have seen their sales go two-or-three-to-one ebook over print. (And authors earn less actual royalties on those digital sales than the print sales, but that's a blog for another day …)
I'll write another day about the state of the industry and how hardcovers and mass markets are the same … and different. And the pros and cons for authors (and readers) in writing in both formats.
For now … I'm trying to get that same level of excitement as I had when DEAD HEAT was released last June. Because I love NOTORIOUS just as much, and getting a second release day IS truly exciting.
Just different.
Over on Facebook this month, I did a count down of the Top Ten Reasons to Read Max Revere. Here are the graphics I posted; I thought you would enjoy them!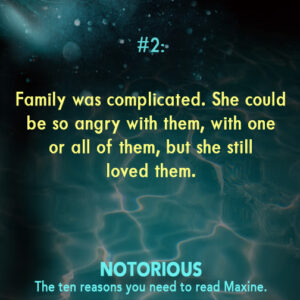 So, why do you love Max? If you haven't read her, which reason above would sell you?
Below is my publication schedule for 2015. For more details about any of these books, visit my website.
12.30.14 NOTORIOUS, mass market release, (Max Revere #1)
02.09.15 PREMIERE, digital, an RWA anthology (My story is "Their Night Off" a romantic suspense featuring FBI Agent Suzanne Madeaux and NYPD Detective Joe DeLucca.)
04.07.15 COMPULSION, hardcover, (Max Revere #2)
05.01.15 SWEET DREAMS, digital, an anthology featuring 13 NYT bestselling authors, to benefit juvenile diabetes research. My story, "Aim to Kill," is a thriller featuring former Sacramento detective Alexandra Morgan. She saves the life of California's Lieutenant Governor, only to be thrown into the middle of a deadly conspiracy, an FBI sting, an old rivalry … and cold-blooded murder. Sacramento D.A. Matt Elliott — who's been in several of my books — is the love interest.
08.04.15 BEST LAID PLANS, mass market, (Lucy Kincaid #9)
09.14.15 LOST AND FOUND, digital, (Moreno & Hart Mysteries #3, with Laura Griffin) — tentative publication date
11.03.15 NO GOOD DEED, mass market, (Lucy Kincaid #10)
Thanks for stopping by! 🙂