Laura Griffin and I are thrilled to announce book 2 in the Moreno & Hart Mysteries will be available on July 21 wherever digital books are sold!
(Wild cheers from the crowd!)
HIT AND RUN follows two more mysteries for our dynamic investigative duo, Scarlet Moreno and Krista Hart.Three years ago, when they were LAPD cops, they were nearly killed in an ambush. They quit the force and started Moreno & Hart Investigations in nearby Orange County.
In HIT by Allison Brennan:
Scarlet Moreno gets a panicked call from long-time friend Jason Jones, an LAPD street cop wanted for killing his girlfriend. Paranoid with no one to trust, he reaches out to Scarlet for help. Before they can figure out who set him up, a SWAT team descends, Jason runs, and Scarlet is left with questions she can't answer when the police show up. She's determined to prove Jason innocent, but the cops want him behind bars and someone else wants him dead. As Scarlet digs deeper into the murky case, she realizes that whoever is framing Jason wants her dead, too–and it might connect to the ambush that nearly killed her and Krista three years ago.
And in RUN by Laura Griffin:
Krista Hart doesn't want to team up with rival private detective R.J. Flynn. And she definitely doesn't want to help an unscrupulous trial lawyer get away with murder. But when R.J. pulls her into his latest high-profile case, Krista realizes that nothing about the murder of a beautiful Laguna Beach housewife is quite what it seems. Krista sets out to uncover the truth–no matter whose side it helps–and manages to provoke all the wrong people, including a vicious murderer who won't hesitate to kill again and then make a run.
CRASH AND BURN is the first book in the series, and Suspense Magazine said: "Two gripping stories told by a pair of amazing talents merge into one fantastic book … Impossible to put down." We hope HIT AND RUN is the same!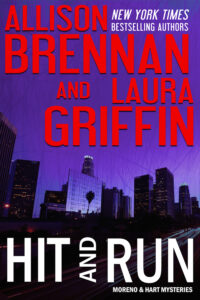 HIT AND RUN is available for pre-order at Amazon for Kindle right now! It'll be up for pre-order in early June at Kobo and iTunes. BN Nook doesn't allow pre-orders for indie published books, but we'll be working hard to get the book up for our Nook readers on the release date of July 21.
I have had a lot of fun with Scarlet Moreno and diving into her friendship with Krista Hart, the rookie cop who didn't abandon her three years ago after she'd been shot and left for dead. Strong, loyal friendships between two female protagonists are rare — we see it mostly in Tess Gerritsen's Rizzoli & Isles series, and to a lessor degree in J.D. Robb's IN DEATH series. While male "buddy shows" are popular, female "buddy shows" usually center are shopping and dating — not around crime and violence.
Though these are mysteries at their core, there is a romantic subplot for both Scarlet and Krista. Scarlet's boyfriend is Detective Alex Bishop. Scarlet has a much easier time jumping into bed with someone than giving them her heart, but Alex is getting under her skin in all the right ways. Scarlet likes to think of her relationship with Alex as "friends with benefits" but it somehow got beyond that when she wasn't looking. And Krista? She really doesn't want to get involved with investigator R.J. Flynn … but she keeps finding herself working with him, and being that close to something that hot is not good for her libido.
SO! I'm traveling today to RT Book Lovers Convention. If you're going to be there, give me a shout out! I'm sitting on two panels:
Thursday, May 15, 2014 – 4:00pm to 5:00pm: The Darker Side of Thrillers
Moderated by Andrew Peterson. Also with: Gennita Low, Leo J. Maloney, Christopher Rice, M.J. Rose
In this panel we'll take a deeper look at the lure of violence in modern fiction. Why do people turn their heads when passing car wrecks? Why do news networks dedicate so much time to violent stories? Many action-based movies and video games contain graphically violent content. How can thrillers compete with them? Should they compete?
Friday, May 16, 2014 – 2:45pm to 3:45pm: Dangerous Dames
Moderated by Carole Nelson Douglas. Also with: Alafair Burke, Toni McGee Causey, Joanne Fluke, CJ Lyons, S. J. Rozan.
Creating Crime-fighting Heroines and the Men Who Love Them. Or Vice Versa. Nowadays women are stars of the Crime/Mystery genre in books and film. How do you make kick-ass protagonists believable and keep the heart as well as the grit in your characters? New York Times and USA Today bestselling authors share their trade secrets.
I'll also be at the big author book signing on Saturday signing NOTORIOUS, COLD SNAP, and STOLEN … and anything you are allowed to bring in! Or just come by and chat 🙂
On Wednesday, I'm hoping to post pictures from the big book bloggers/book sellers party — depending on what time I get to bed! I'll definitely be tweeting and posting from Facebook, so check them out.
If I'm not back online the rest of this week … have a wonderful week and I'll see you next Monday with a full RT report!