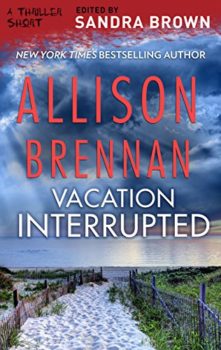 Lucy Kincaid Novella
February 12, 2018
MIRA Books
Anthology
Available in: e-Book
BUY NOW

*




*afflilate link
* This site contains affiliate links to products. We may receive a commission for purchases made through these links. Specifically, this site is a participant in the Amazon Services LLC Associates Program, an affiliate advertising program designed to provide a means for website owners to earn advertising fees by advertising and linking to amazon.com, audible.com, and any other website that may be affiliated with Amazon Service LLC Associates Program.
Vacation Interrupted
Discover heart-racing intrigue in this Thriller Short of romantic suspense.
New York Times bestselling author Allison Brennan's recurring protagonists Lucy Kincaid and Sean Rogan learn that taking an island vacation isn't so relaxing—especially when solving crimes is your occupation. Rescuing a drowning man on his honeymoon turns out to be the easy task. Finding and stopping his military-trained ex-girlfriend from killing him is a bit more complicated, and Kincaid and Rogan soon find themselves up to their necks in trouble.
Don't miss any of these Thriller Shorts from LOVE IS MURDER anthology, which was originally published May 2012 in hardcover and February 2013 in trade paperback, edited by #1 New York Times bestselling author Sandra Brown:
Diamond Drop by Roxanne St. Claire
Cold Moonlight by Carla Neggers
Poisoned by Beverly Barton
Speechless by Robert Browne
Lockdown by Andrea Kane
Spider's Tango by William Simon
Night Heat by Laura Griffin
B.A.D. Mission by Sherrilyn Kenyon
Deadly Fixation by Dianna Love
Hot Note by Patricia Rosemoor
Last Shot by Jon Land & Jeff Ayers
Grave Danger by Heather Graham
Without Mercy by Mariah Stewart
Even Steven by D.P. Lyle
Dying to Score by Cindy Gerard
The Number of Man by J.T. Ellison
Hard Drive by Bill Floyd
After Hours by William Bernhardt
Blood In, Blood Out by Brenda Novak
Wed to Death by Vicki Hinze
The Honeymoon by Julie Kenner
Execution Dock by James Macomber
In Atlantis by Alexandra Sokoloff
Break Even by Pamela Callow
Dirty Down Low by Debra Webb
Broken Hallelujah by Toni McGee Causey
Holding Mercy by Lori Armstrong
Vacation Interrupted by Allison Brennan
I Heard a Romantic Story by Lee Child